Concrete as a sophisticated design option
With today's technology and products, concrete can be transformed into a work of art. At StoneCare of Texas we bring our years of experience...
Concrete Dyeing
Dyes are the perfect match with the luster of a newly polished concrete floor. Translucent acetone-based dyes are reformulated using extremely fine molecules of color designed to penetrate the surface of newly cured or existing concrete, creating a layer of translucent color that dries quickly and will not chip, crack or peel. Unlike acid-based stains, they do not react chemically with concrete.
---
Concrete Staining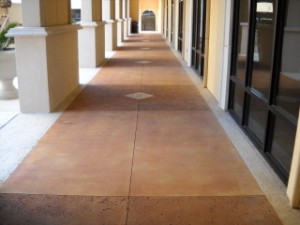 StoneCare of Texas uses penetrating reactive stains that chemically combine with cured concrete to produce permanent, variegated or translucent color effects. Chemically stained concrete is superior in durability and abrasive resistance to that of acrylic stains or other types of paint that can wear off quickly or delaminate. These chemical stains are becoming a popular alternative with the architectural and building community.